Clifton College School Shop
Click and Collect orders only
BOOK WITH OUR NEW ONLINE APPOINTMENT SYSTEM FOR UNIFORM THIS SUMMER NOW AT:
Please note: Our opening hours are from 8:00am-5:00pm from Monday 4th September.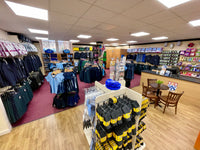 Welcome to the Clifton College School Shop!
The School Shop, also known as the 'Grubber', is in the middle of the College's main buildings, near the Sports Centre and the Hammond building. A hub of activity during break times, the Shop is also a very handy place to buy all the essential items to support study and recreation. Contact information and further details are given below.
Purchases for all pupils can be made via the online shop or by popping into the store.
Please note that this is a Click & Collect service only.
Once your order is placed, School Shop staff will be in contact within 48 hours to confirm details of safe and secure collection.
Order collections can be made:
Term time -
Monday to Friday 08:00 to 10.00 & 14.00 to 17.00, Saturday 8:00 to 14:00
School holidays -
Monday to Friday 9:00 to 16:00, Saturday 9:00 to 13:00
We are located on Guthrie Road, Clifton, Bristol, BS8 3EZ.
TEL:  +44 (0)117 315 7620
EMAIL:  schoolshop@cliftoncollege.com
What do we stock?
• All new school uniforms for The Pre-Preparatory School, The Preparatory School and Upper School.
• Clifton sportswear and a complete range of games clothes and equipment.
• Stationery and textbooks.
• Drinks and Snacks.
When are we open?
• Term Time: Monday - Friday 08:00 - 10.00 & 14.00-17.00 & Saturdays 08.00-14.00
Holidays: Monday-Friday 09.00-16.00 & Saturdays 09.00-13.00
• Appointments for pupils who are new to the College or transitioning between schools within the College will be booked with rigid appointment times lasting no more than 1 hour
Please note, we do not take appointments from 1st September.
• To make an appointment, please either telephone 0117 315 7620, email schoolshop@cliftoncollege.com or book an appointment via our online booking system below.